One of my 2021 resolutions is to be creative.
I've been actively developing my own retro game console emulators. That's fun and I still enjoy it, but I also feel that I'm just reiterating what other people do.
Playing retro games on my emulator motivated me to draw my own pixel art. Learning to draw seems like a good activity to be creative. Around last fall, I bought a tutorial book, Pixel Logic, and took a quick look at it. It was so good. I had (still have) no idea about drawing but it gave me a nice overview on how to develop pixel art skills.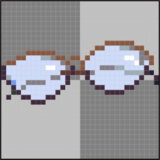 I don't think I can draw good pixel arts like we can find in r/PixelArt. Still I think I could be able to draw icons for my private tools/softwares like the emulator.